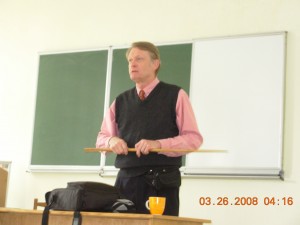 2017
June 22.  Northeast Silviculture Institute for Foresters, Orono, Maine.
Economics of Growing Spruce and Fir
Feb 10.     Granite State Division, SAF.  Attitash NH.   Low grade wood markets: how did we get here?
March 8, 9.  New England SAF,  Bangor, Maine,   Moderated panel on potential of exotic larches;  Presentation on forest restoration.
March 30.     Maine Sustainability and Water Conference.  Moderated session on Maine rivers; brief talk on cleanup of Androscoggin River.
2016.
Jan. 13.  Moderated panel discussion on markets at SWOAM annual Meeting,  Augusta, Maine.
Jan. 27.  Moderated panel discussion on Maine's coastal forests, Curtis Memorial Library,  Brunswick Maine.
March 8-10. New England SAF Meeting, Sturbridge Mass.  Co-author of poster on growth performance of larch in Maine.
April 29,  Presentation on history and issues of public land acquisition in Maine,  Maine Water Conference, Augusta, Maine.
June 18.  Talk at Workshop on forest industry situation in Washington County, at Machias Maine, sponsored by Maine Forest Service.
Sept 30            Poster, and short talk on hybrid larch for carbon storage,  ECANUSA, Burlington VT.   Also presented talk on Daydreams and Nightmares in the Northern Forest.
November 3. Moderated panel at National SAF Convention, Madison, Wisconsin, on uses of exotic conifers in the North.
2015
Sept 29           "Street Smart Marketing for the Small Forest Products Businesses"   Ag Choice Executive Training Conference,  State College, PA.
June 10        Climate Change and Maine's Forests: What we know and Don't know.  Brunswick, Maine. Univ of Southern Maine Senior College.
Apr 1              Vikings and Mongols of the 21st Century: meaning for Eastern Canada.  CWF, Moncton, NB.
2014.
Mar. 10       New England Regional Conference on Forest Engineering.   Presentation on lessons from previous spruce budworm outbreak.
June 4              Presentation at Smallwood Conference,  Rochester MN
Oct. 9, 10        SAF/CIF/ IUFRO Conference, Salt Lake City Utah, moderator of 2 panels. One on resource assessment and one on professional ethics.
Oct. 19.           ECANUSA conference, Rimouski, Quebec.
Oct. 30.           Spruce budworm symposium, UMO, Orono, Maine.
2013
March.        Lecture at University of Maine at Farmington Global issues lecture series.
April           Panelist, side event on Private capital for forest investment at United Nations Forum on Forests – 10.  Istanbul Turkey.  Also co-authored background paper for this session.
May            Talk on new capabilities for forest resource assessment, New England SAF.  Bethel Maine
Aug.            Presentation on markets at Oak Workshop, MFS, Bangor, Maine
Sept 9         Presentation at Maine Forest Products Council meeting, Sugarloaf USA, on spruce budworm – lessons learned form 1970's and 870's outbreak.
Oct. 15.       Maine Society of American Foresters, Orono. How to keep Maine sawlogs in Maine.
2012
April.          Organizer and moderator, panel on Biomass, New England Society of American Foresters, Amherst, Mass.
May.           Talk on marketing practices at Smallwood Conference, Flagstaff, Arizona.
May.           Northeastern Annual Meeting, NCASI, Portland, Maine.  Talk on effects of forest practice regulation on forest management.
July.            Panel presentation, Pellet Fuels Institute National Conference, Foxwoods, Connecticut.
August        Vaughan Woods, 5 Centuries of Change.  Vaughn Woods Trustees, Hallowell Maine.
October       Talk at Harvard Forest on forest fire risk assessment for New England
Nov.           ECANUSA, Durham, NH.  Expanding interfaces in the Northeast's "Asbestos Forest": implications for fire control programs.
2011
Jan 13                  Copenhagen, Cancun, and what it means for Maine.  Univ of Maine Orono
March 2011.   National Association of Realtors,  Nashville TN,  talk on timber investment.
2010
June 2010   Presentation on forest products markets and Training session on marketing,  Flagstaff, Arizona,  for Southwest Sustainable Forest Partnership.
Oct 27,29    Presentations and panel at 8th Timberland Investment Summit, New York NY
Dec 6.         Panelist on REDD and carbon finance,  IETA side event, COP 16.  UNFCCC Climate Summit.  Cancun, Mexico.